A different kind of yoga story... Cooking and yoga... Cooking stresses me out. Like, really badly. So it's important that I channel my yogi skills to keep my cool when it heats up in the kitchen!
I have pretty poor cooking skills which adds to the stress (rephrase... I need to build confidence in the kitchen *eye roll*), but making food for others makes me feel anxious. With Christmas around the corner and the silly season upon us, cooking for others is on the agenda.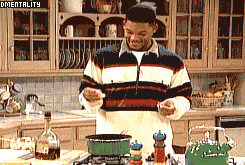 You'll usually find me arriving late to a gathering (once the food is ready - sorry mum! Or relying on the BF for a BBQ so I can just make the salads and use the ingredients I'm happy to chop, tomatoes and onions - you're out.) and then putting my hand up to do the washing up instead of helping with the cooking.
I'm not the type of girl who can open up a cupboard and just 'create'. I wish I had these skills, but unfortunately I have to copy a recipe and pay full attention, otherwise it ends in disaster (I've got plenty cooking fail stories if you ever want to share a few bottles of wine and hear them out).
So every now and then I'll pull out all of my cook books or jump online and find something that looks extremely delicious but is super easy to make. During a recent online search I found an easy-peasy recipe to create for friends and family, that I wanted to share with you - it's low stress, easy to make, free from added sugar, gluten and wheat and tastes really good! Oh and you don't have to cook it... it's raw! Even better!
Say goodbye to stress in the kitchen!
Mango Shortcake Pie
I stumbled across Amy Darcy, creator of the blog Eat, Pray, Workout and had the pleasure to share a coffee with her last week. We shared some interesting chats about our different views of yoga spirituality/philosophy and Amy's beliefs and also the fun things Amy get's up to in between raising baby Finn. I mentioned I'd tried some of her recipes and yesterday I recreated her raw mango shortcake pie. This is my kind of recipe. It is so simple and I felt like a bit of a cheat when I realised how easy it was to make. The beauty of this was that there was absolutely no stress in making it! So it's the perfect recipe.
I shared the treat with some friends after dinner last night and everyone was impressed. If you're looking for something to take to Christmas lunch that is delicious, super simple to make and free from wheat and gluten, then this is your treat.
Now I'm also not one for food photography, but you get the idea....
I added blueberries for some extra fruit (and to also hide my poorly cut mango)
It took me about 5 minutes to put together, plus some chill time for the base (about 2 hours) and all you need is:
6 dates

1 cup walnuts

1 cup shredded coconut

¼ tsp Himalayan salt

1 mango
No cooking required! For the full recipe check out Amy's blog here and the vid below...
Now, if you're anything like me and feel really uncomfortable being in the kitchen, here are my tips on how I reduce the stress in the kitchen - and of course it's yoga related!!
How I reduce stress in the kitchen
1) I make time for cooking and aim to be organised!
I find myself more peace of mind if I schedule it in, have my recipes planned and the ingredients stocked. If I'm in a rush, I get anxious, I take a half-arsed approach, I burn, undercook or drop things on the floor, whatever. It just ends up in disaster. When I make time, I can be 100 per cent fully in the moment, mindful, I read the recipe properly and put love and care into what I'm creating. And I actually create meals that are pretty good for my skill set! It can often feel like I'm in a meditative state once I get to this point - nothing else is happening except for cooking.
2) Pump the tunes!
We recently got a record player and I allow the music to set the mood, I have a dance and have a sing. Music always calms my nerves and brings me to the present moment.
3) Fit in some kitchen yoga
Don't laugh, it's a thing! While you're waiting for the oven to warm up, create a small flow. Or get creative, perhaps try some different yoga poses during the process. Half moon pose while you're checking the goods in the oven. Warrior III while you're finding things in the fridge or cupboard. Balance in tree while you're doing the dishes. A nice big stretch when you're reaching for the top shelf. Anything goes.
4) Mindset
I have to remind myself that its not a chore. I flip my thought processes 'I cook or make food to feed my body, to enjoy meals with friends and family which to make me feel good'.
6) Remove self doubt
I am usually a really positive person, but the kitchen is a place where I lose the positivity and the self doubt thoughts start to creep in. What if the people I'm cooking for don't like it? What if it's not cooked properly? What if there's a hair in it? The list goes on. A gentle friendly reminder to 'let go', give myself a pep-talk. If it doesn't work out, well you tried. And if it does, well high five! And carry on.
Happy making!!! If you have any go-to easy recipes, I'd love to hear from you!!